Our History
A look back at where we've come from:
In 1980 Enerplan pioneered the integration of urban design and energy management. Enerplans' early work featured solar energy concepts and residential design and construction features for safe, comfortable and economic home environments."Solar subdivisions and zoning by-laws", pioneered by Enerplan, were heralded as major developments in the planning business throughout Canada and into the United States.

Enerplan, working with the Federal Government was one of five firms involved in Canada's breakthrough new home energy conservation initiative known as The R-2000 Program. The R-2000 Program focused on the design, construction and operation of a new or retrofitted energy conserving home. Enerplan educated other trainers; builders; developers; building & zoning officials; contractors; equipment & product suppliers; home buyers & home owners; as well as other educators, on all aspects associated with the R-2000 Program.

Enerplan authored and developed the widely heralded "House as a System" concept and educational programs. The "House as a System" program provided various audiences with the understanding of how buildings work and pointed the way to "systems thinking", a key to Enerplans' evolving success. The "House as a System" program was an integral component of the highly acclaimed Community Retrofit initiative adopted by the City of Halifax, Nova Scotia and continues to form the backbone of similar initiatives throughout North America.

Enerplan evolved into the first true Building Science firm in Ontario and using its "System Thinking" and "Building as a System" concepts started consulting to building owners at solving building problems and developing "Remedial Measure Action Plans".
Enerplan developed the Capital Reserve Fund Study for Co-operatives and Non-Profits and then for upcoming Condominium Corporations throughout Ontario. Since these early days Enerplan has authored in excess of 5000 Capital Reserve Fund Studies across Canada and into the United States. Our unique positive cash flow approach was later adopted through the Condominium Act as a requirement for all Condominiums in Ontario.

Multi-unit Condominium, Co-operative and Non-Profit Housing continued to flourish in Ontario. Much of the earlier housing stock of buildings, however, was coming to the age where major capital repair requirements were looming. Many of the Boards of Directors lacked the experience to understand the complexities of the planning, tendering and implementation of large projects costing thousands of dollars. Enerplan assisted management to lead these Boards through this process from conception to completion of major capital repair requirements. Enerplan built a strong team of investigators, specifiers and project managers who specialize in post construction rehabilitation of occupied buildings.
Enerplans ever growing expertise with the pitfalls of this evolving technology in the post construction investigation and remedial implementation field was recognized by many leading authorities.
The late 1970's and early 1980's was a period of building envelope and mechanical system evolution. Gone were the days of cheap energy and the new construction industry implemented strategies to better insulate and air tighten building envelopes, introduce more efficient mechanical systems while also attempting to lower construction costs. Enerplans' ever growing expertise with the pitfalls of this evolving technology in the post construction investigation and remedial implementation field was recognized by many leading authorities Enerplan was chosen to develop information and training materials designed to avoid these pitfalls.
Examples of these materials include:
Ontario Ministry of Energy's "Heat Save" Manual.
"Ventilation in High-Rise Buildings"; and "Ventilation in Low-Rise Buildings"; training videos and associated bookletsfor the Ontario New Home Warranty Program (now Tarion).


Authored and directed the following Building Science videos and associated manuals for Tarion:

"Parking Garage Deterioration - The Underground Storey"
"Exterior Walls for High-Rise Residential Construction - Air Barriers"
"Exterior Walls for High-Rise Residential Construction - Structural Integrity and Rain Penetration"



"Hydronic Heating Systems" training program for the Heating Refrigerating and Air Conditioning Institute of Canada (HRAI).
"Forced Air Heating and Cooling" Training program for HRAI.
"Total Tune-Up" Training program for HRAI.
"Home Builders Manual", the "Habitair Installation Manual" and the "Habitair Home Owners Manual" for Fiberglas Canada Limited.
Acted as the lead consultant to the Joint Industry/Government Task Force on Indoor Air Quality and developed a series of state-of-the-art strategies for dealing with indoor air quality including the provision of make-up air and the changes to the B-149 Code.
Contributing authors to the "Condominium Construction Guide" co-sponsored by The Ontario New Home Warranty Program, Ontario Hydro and The Ontario Ministry of Housing.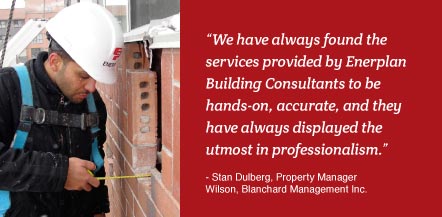 In the early 1990's, the Ontario Government announced a significant program to develop much needed Co-operative and other Non-profit housing stock around the Province, and most critically in the GTA. Part of this program slated several thousand of the allocated housing units were to be derived through the acquisition and redevelopment of distressed existing privately owned properties. A complex requirement of this program was that the distressed buildings had to be purchased, restored and upgraded to the most up-to-date Ontario Building Code standards within a maximum unit price. Another significant limitation was that all work was to be performed without displacing the current tenants.
Enerplan was appointed as the prime consultant to one of the lead agencies tasked to work with local community groups and tenant associations to identify candidate properties. Enerplan's role during this initial period was to investigate candidate properties, identify the required capital requirements for the redevelopment, and to develop budgets for the required work. Enerplan's attention to detail, innovative remediation strategies and controlled budgeting, contributed to over 60% of the formal applications involving our participation, being selected for implementation. Enerplan continued in the role as Technical Consultants and specified, tendered and project managed the comprehensive redevelopment of well over two thousand housing units in the GTA.
Enerplan's attention to detail, innovative remediation strategies and controlled budgeting, contributed to over 60% of the formal applications.
The housing initiative also included a large component for new development. Due to the recent economic recession, there was a major downtrend in the Condominium Market that left many new condominium projects "Shovel Ready" with little or no sales. After revisions to some of these projects, they were developed as part of the initiative and turned over to the sponsoring agencies. During construction, however, the Ontario Government recognized the need for the public to be protected and assured that the project would be completed properly and to an acceptable standard. Enerplan was appointed as an Advocate Consultant to oversee several of these projects under construction.
The tight timelines, budget constraints and stringent requirements necessitated the innovative development of remedial techniques, methods and materials. This greatly strengthened Enerplan's ability to consult with our Condominium clients dealing with deterioration issues and limited budgets. Significant knowledge and expertise was developed in recladding strategies and remediation of Exterior Insulation and Finishing System Materials (EIFS) including the development of wide band sealant design for synthetic face sealed stucco joints.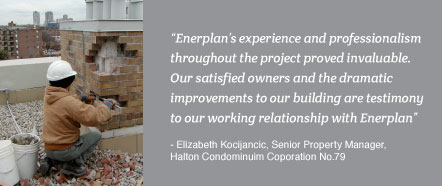 During the later 1990's Enerplan streamlined their services to focus on post construction services, primarily for multi-unit Condominium, Co-operative and Non-Profit developments. Four specialized departments were formed and each one headed by a senior employee of Enerplan.
The Technical Services department focused on the investigation of simple and complex issues facing our clients concerning their capital assets.Be it a simplistic occupant complaint concerning noise or odours, etc., to more complex issues such as deterioration and leakage problems with the building envelope, Enerplan provided competent and objective advice. During this time period, Enerplan trademarked the title "Remedial Measures Action Plan". Our style of report writing has been heralded as "not your typical engineering report". Written with the layperson in mind, each report was designed to be easy to understand and provide clear step-by-step direction for our clients. The Technical Services department also used its vast knowledge of post construction issues to identify potential problems in construction; a great asset when conducting Performance Audits for newly constructed buildings.
The Reserve Fund Study department perfected its computer modeling system for positive cash flow based capital requirement planning. At a time when other firms were just developing antiquated shortfall and catch-up models, Enerplan now had 15 years experience in performing Reserve Fund Studies and continues to provide a superior planning tool. The sophisticated proprietary modeling system allows the Reserve Fund Department Team to develop almost unlimited cash flow projection scenarios for our clients with minimal manipulation of data. It is still one of the only models that allow, for example, multiple changes in interest and gradation rates throughout the projection. The Reserve Fund Department worked closely with the Technical Services Department to help assure its prediction of capital repair requirements were realistic.Often, the Technical Services Department would perform specialized and focused reviews of components potentially requiring more immediate attention for incorporation into the finalized Reserve Fund Plan.
At a time when other firms were just developing antiquated shortfall and catch-up models, Enerplan now had 15 years experience in performing Reserve Fund Studies.
The Specification Development Department was tasked with designing specific remedial work strategies and preparing Tender Documents to obtain competitive apple-to-apple bids from contractors to perform remedial work. The Department continuously researched new and emerging materials and technologies and met with manufacturers to discuss the shortfalls of traditional products. The objective of the Department when preparing each Specification is to develop the most cost effective remedial work requirement for each individual project. The Specification Department communicated constantly with the Technical Services and Reserve Fund Study Departments to assure appropriate technologies are accounted for in planning work throughout the company.
The Project Management Department carried out the vision of the remedial projects by reviewing the progress of the work and administrating the Contracts in the field. The department strived to maintain utmost competence in the areas of Contract Administration, Ontario Ministry of Labour Requirements and the like. The Project Management Department earned the respect of leading restoration contractors throughout southern Ontario, which is a vital relationship reflected in the quality and comprehensiveness of a successful remedial work project. The Project Management Team worked closely with other departments of Enerplan to problem solve unexpected issues in the field, reviewing installation mock-up prior to full scale implementation, etc. to assist in assuring quality control.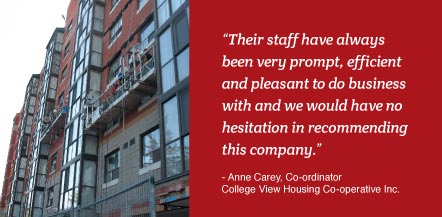 The turn of the century dawned a restructuring of Enerplan. All senior employees heading our specialized departments became managing directors of Enerplan ensuring solid and stable leadership throughout the company. The restructuring allowed each partner to specialize in their particular area of practice and focus on their area of expertise to help assure comprehensive and state of the art services to our Clients.
The early 2000's saw the introduction of the new Condominium Act. Enerplan was appointed to the ACMO/CCI Legislative Review Committee for the Condominium Act, 1998 (Reserve Fund Studies and Updates, including the governing Regulations) and remains active in this capacity. Enerplan also served as the technical member of the ACMO Estoppel Certificate Review Committee (Reserve Fund reporting), in conjunction with management and legal representation. As part of our involvement, the Enerplan positive cash flow model for Reserve Fund Studies was adopted for use throughout the industry.
The 2000's decade was a time of hardship for many older Condominium developments. Many Corporations were aging, had no Reserve Fund Study in place, had very limited reserve balances, and, had looming building component restoration requirements. Enerplan's Departments worked as a team to help these Corporations understand and prioritize their remedial requirements, put a workable Reserve Fund Study in place and plan and implement a sustainable work program. Several Corporations worked with Enerplan to abandon the band-aid approach to building repairs to perform comprehensive rehabilitations and are now enjoying renewed pride in ownership and increased property values.

The managing Directors of Enerplan have over a century of combined experience directly with Enerplan. Together they have formed a dynamic team dedicated to developing our younger team member's strengths to assure the continuation of Enerplan's reputation for high quality consulting services well into the Future.
Key Milestones
Some notable achievements